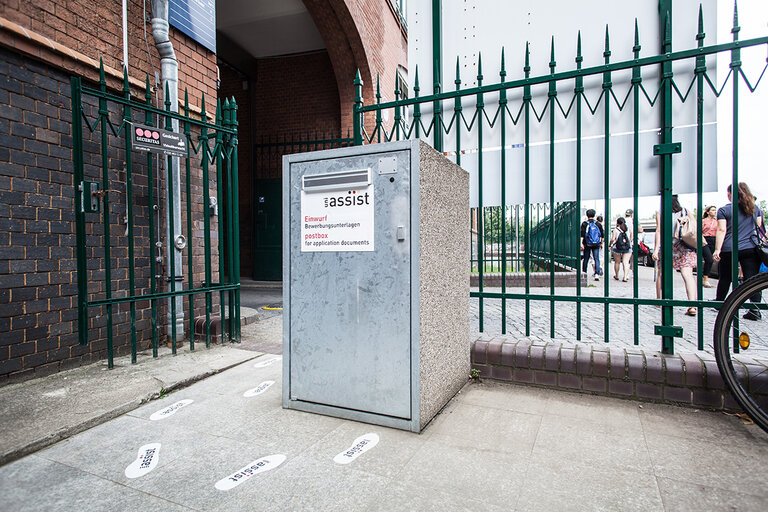 If you have questions about the uni-assist evaluation procedure or your application, please use our contact form. You will find answers to many questions here and can submit a question to uni-assist in each category.
Monday to Friday | 10.00 AM to 1.00 PM (UTC+1/UTC+2)
Phone: +49 30 201 646 001
uni-assist is happy to answer questions on the application evaluation procedure by phone. Please have your uni-assist applicant number ready when calling with concrete questions about your application.
Postal address
Please send your application to this address*:
uni-assist e.V.
11507 Berlin
GERMANY
* You can also use this address for courier services or to send registered mail. If your mail carrier does not accept the address, please send your mail to uni-assist e.V., Geneststraße 5, 10829 Berlin. This will not increase the transit time.
Important:
Please tell your postal services provider that you want to send your documents as DOX. You will then avoid incurring additional costs and longer wait times.
You can also drop your documents in our letter box in person. It is accessible 24 hours a day. If you want to drop off your application envelope in person, please use only the letter boxes marked with "uni-assist".
The exact GPS coordinates are: 52.472090 13.36578
How to find the uni-assist letter box:
In Reichartstraße 2, 10829 Berlin (Gate 1), you will find a large sign for the uni-assist letter box.
Go through the green fence gate and you'll be right in front of the letter box.
Fax
Telefax number: +49 30 201 646 005
You are welcome contact us by fax but please note that you cannot submit certified copies of documents by fax.