Information material and newsletter
This page contains a selection of information material and documents regarding the free application procedure for download. You may also find helpful links on refugees and university studies as well as event announcements.
---
Magazine "Flucht und Studium"
Would you like to subscribe to the uni-assist newsletter "Flucht und Studium"? You can read previous editions here. Sign up for free by writing to fs@avoid-unrequested-mailsuni-assist.de. The magazine is issued twice a year.
You need a printed edition of the magazine? Write to us!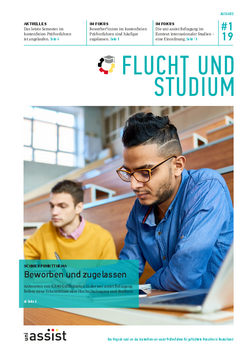 ---
Webinars
How refugees with missing documents can find their way into university
The presentation held on 23 October 2018 (in German) including additional questions that due to time constraints could not be answered during the one-hour webinar.

1 MB 08.11.2018 pdf
Below you will find the recording of this webinar (in German only):
Webinar: Free evaluation procedure for refugees in Germany
Slides of the presentation shown during the webinar on 24 May 2018 including answers to the questions asked during the webinar.

1 MB 11.06.2018 pdf
Below you will find a recording of the webinar (presentation in German):
---
Info cards on the free application process for refugees
uni-assist flyer with insert "free application process"
Read our in-depth information flyer on our services and the advantages of working with uni-assist.

2 MB 09.08.2017 pdf
---
---
Template for the university's attestation
---
Sample: HZB certificate using the free application process
Here you can find an example showing which information is recorded in the HZB certificate.

1,012 KB 17.10.2017 pdf
---
---
More information material is available under press.